Whats New 2017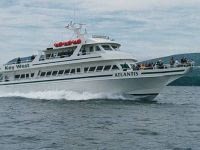 This winter led to numerous projects at Miss Chris Marina. As the owners of the fishing vessel, Miss Chris since 2015, the all new vessel was hauled out.
A new Season is upon us. What is going on at Miss Chris Marina and the Cape May Whale Watcher? Quite a bit…
This winter led to numerous projects at Miss Chris Marina. As the owners of the fishing vessel, Miss Chris since 2015, the all new vessel was hauled out at Canyon Club Marina for a variety of upgrades and painting. The Cape May Whale Watcher was hauled out at Yank Marine for her annual cleaning and painting. The Systems were checked throughout both vessels to ensure a good season.
A new vessel arrived in Cape May, NJ named the Atlantis. This 120 foot long all aluminum vessel is a new addition to the Cape May Cruises Fleet. Her long hull can accomodate over 300 passengers. Her four, large caterpillar engines can provide a swift cruising speed and her two climates controled cabins will provide a comfortable ride no matter where you are going. Captain Jeff Jr and Sr tracked the vessel for ten years and spent five years negotiating the deal. She is in need of TLC after her long journey from San Juan, Puerto Rico. She is currently at Yank Marine for major refit and United States Coast Guard Inspection. We look forward to her joining the fleet and offering the public a new affordable luxurious option.
A new building took shape in the parking lot at Miss Chris Marina. The building which has been planned for six years will be an all new storage facilitiy for all items at the Marina, from supplies to tools to the occassional project boat which Captain Jeff loves to find. With so many acitivities taking place, more indoor space will come in handy. The two story steel building is built upon a hurricane proof concrete pad and is complete with heat for those long winter months. The new building will assist in fishing, whale watching, dolphin watching, dinner cruising, kayaking, the tackle shop, rental boat and motor repairs, boat and yacht sales, customization, fabrication, welding, and many other activities.
Piling work has been ongoing at the Miss Chris Marina thanks to Jeff and Dan Arenberg. Their expertise was brought in to prepare for the worst conditions in all boat slips. Once all green heart pilings were placed and other replaced, they moved on to the dock. Much of the Miss Chris Marina dock is brand new. We have preserved the original pavilion from Frank Spiegel in the 1970s and straightened the deck beneath it, allowing an excellent spot to sit on the dock of the bay and watch the ships roll in or the kayakers roll into the water…..
There is much more to come to Miss Chris Marina, along with an all-new Bar and Restaurant set to open at Mayers in 2018. We look forward to meeting our new neighbors and adding their fare to the long list of local restaurants like Lucky Bones Back Water Grill, the Washington Inn, the Lobster House, the Saltwater Cafe, Tonys Pizza, the Little Store, Red Brick Ale House, Two Mile Landing Crab House, C-View, the Pier House at the Waters Edge, Oyster Bay, Alethea, Finns, 410 Bank St, Union Park, the Blue Pig, the Mad Batter, the Ebbit Room, the Peter Shields Inn, Bella Vida, Panicos, and many more.
Our partners locally include the Mid-Atlantic Center for the Arts and Humanities, Lucky Bones Back Water Grill, Yank Marine, Sea Gear, Reel Fire, Jersey Diesel, Ransome Caterpillar, Cummins Power Systems, Cape May Brewery, Slack Tide Brewery, Cape May Distillery, Cape May Winery, Hawk Haven Winery, Willow Creek Winery, Shop Rite, Sysco Foods, Vineland Syrup, Island Ice Cream, Paramount, and many more.